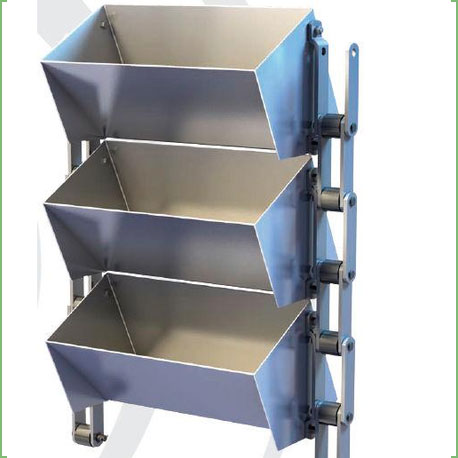 Ask for Price
In
Belt & Chain type Bucket Elevator
buckets are held in between two strands of chain at any point bucket remains parallel when bucket elevator is in working condition.
At discharge point bucket gets tilted with rack arrangement at feeding point bucket gets closer to each other, so that spillage is not there.
This bucket elevator is known as
pivoted bucket elevator
material can be unloaded at any desired points.
Product Details:
Minimum Order Quantity : 100 Meter
Material of Belt : Rubber,Chain
Length of Belt : 10-15 feet, 0-5 feet, 15-20 feet, 5-10 feet
Length Feet : 100 feet
Application Industry : Petro-Chemicals, Food, Beverages
Usage/Application : Conveying matter without brackege
Material : Stainless Steel
Drive Technology : Geared Traction
Number of Floors : As per requirement
Warranty : 12 Months
Automation Grade : Automatic
Load Capacity : As per customer requirement
Structure : Chain Conveyor, Inclining Conveyor, Belt Conveyor, Roller Conveyor
Condition : New
Maximum Rise : 0-5 m, 15-20 m, 20-25 m, 5-10 m, 10-15 m
Drive Type : AC
Features : Z Type
M.O.C. : SS or MS as per customer requirement
Method : Mechanised
Industries Catered : Cement, Food, Minning, Solid Waste, Chemical,Paper